Latest View all Events Events
Half term

27

Oct

2014

PTFA Halloween Party

31

Oct

2014

13:00 pm - 15:00 pm @ School Hall

Christmas Card Project Final Return Date

04

Nov

2014

@ School Office

Welcome to our Christmas Card Project, which we are undertaking in partnership with Art Projects for Schools Ltd. The funds raised through your support will be sent to Simcelisile School in South Africa. Children are invited to create either a Christmas card, a thank you card, or even a birthday card, on an A4 piece of paper, which must then be returned to school (along with your order form) and it will then reproduced in full colour onto cards that are available in packs of 12. The cards recognise and celebrate each child's creative effort and are great to send to family and friends. Ordering is simple! Just complete the order form attached to this letter, with your child's name in block capitals in the boxes provided (please note that you can have a maximum of 26 characters including spaces) and return it along with the artwork to the school office NO LATER THAN TUESDAY 4th NOVEMBER. Payment must also be included and this can be by either cash (exact change only) or cheque made payable to Bramley Infant School. To avoid paying a £2.00 administration fee per artwork when submitting late orders or re- orders, please be sure to get your order in on time and to order the correct number of cards. Don't forget to check if grandma and grandpa would like some as their order can be added to yours and will save paying the additional charge if ordered later! You may also select the box to say that you do not want to have the school name on the back of the card.  DO NOT USE GLITTER as this can contaminate other artworks and damage machinery used in the printing process.  Everything visible on the front of the artwork will be printed; however 2-3mm around the edge of the design may be lost due to the nature of the scanning process. To avoid losing any letters or words, encourage your children NOT to write up to the edge of the paper.  Please fix any pastel or charcoal drawings with either fixative or hair-spray to avoid smudging during transit or the production process.  Reflective materials DO NOT reproduce well. This is due to the scanning process when a bright light travels across the artwork. Reflective materials will bounce that light back and may distort the colour of these materials.  Avoid any type of pearlised paint. Although the colours may be bright and vivid, the paint dries to a bright metallic pearlised finish. The will reflect the light during the scanning process as described above.  Fluorescent/highlighter pens will not reproduce well as there is no depth in the colour – they are bright but the pigments are different to other pens.  Please tape the order form (DO NOT STAPLE) to the reverse of the artwork so that the arrow points to the top of the design. Please remember the deadline is Tuesday 4th November. Why not encourage your children to get drawing during the half term holiday, as the cards can then be returned to the office in plenty of time, with no additional fees incurred. The finished cards will be returned to the school office, and then sent home in book bags, at the beginning of December, leaving you plenty of time to post to family and friends. If you have any questions, please do not hesitate to come and speak to us. In the meantime, start drawing and have fun!! Kind regards Karen Rawlings

Bonfire Night

05

Nov

2014

Open PTFA Meeting

06

Nov

2014

20:00 pm - 21:30 pm @ Jolly Farmer
Calendars page(s):
View all Events >>
Open Morning - Monday 10th November, 9.00am-11.00am. No need to book, Come along at your convenience.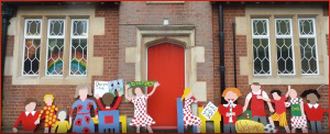 Children have been attending Bramley Infant School for over 150 years and we continue to foster a joy of learning which will last for life.
We believe........
Every day is a day for learning
Every child is special
Every child will achieve
How we are learning is as important as what we are learning and we want that learning to be engaging, enjoyable and meaningful!
You can find out more about our school by looking through our website, download our brochure, or why not come and visit us to see for yourself?
Our Admissions Policy and details of how to apply for a place at Bramley C of E (Aided) Infant School may be found on our Admissions Page
Full details of the Appeals timetable for 2014/2015 may be found on our Policies Page.